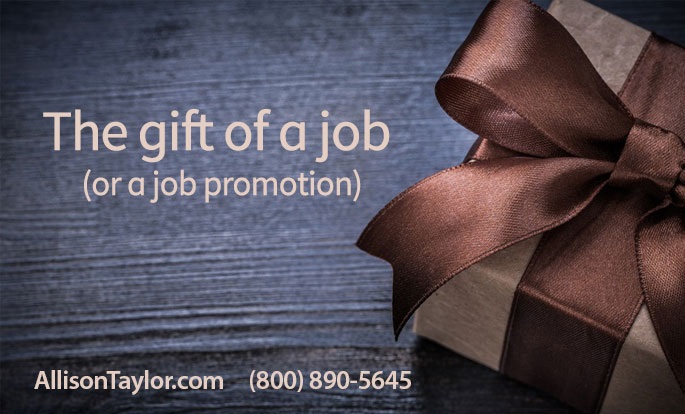 The Gift of a Promotion (or a Job) Bundles 12 Critical Employment Services That Will Give Benefits for A Lifetime
The average American is earning approximately $48,098.63 annually per the Social Security Administration.   Based on this figure, waiting for annual pay increases averaging 2.9% in 2016 increase your compounded gross income to $2.29 million over 30 years.  Therefore, an investment of $1395* could result in a ROI of $1.2 Million Over a 30-Year Career for Salaries of $48K Annually!
Promotional increases will earn you an average increase of approximately 10% (for professionals) or a compounded gross income of approximately $3.4 million after 30 years.
By managing your career differently in an uncertain world, you stand to bring to yourself and your family an additional $1.1 million personal gross income over the course of a 30-year career. This enhanced amount could serve as a healthy retirement future.
Given these statistics, it 'simple common sense to invest in a career future and become your own champion, by making a strategic career move or pursuing a promotion the right way. Once you know the secrets to winning promotions, it will increase your bank account and your projected income over your career lifetime.
Now there is a new tool on the market to help you live up to your dreams. Allison & Taylor Reference Checking has announced the creation of a comprehensive career package to help you – or a loved one – seek a fresh opportunity or win a promotion. Allison & Taylor Reference Checking has partnered with global best-selling career author & executive resume writer Martin Yate ("Knock 'em Dead") to offer a package including:
How to win a new job or promotion where you work
Two hours' career planning, job search or promotion strategy
A custom-built resume – keyword and database optimized
A self-paced job search training (or promotion package)
"Knock 'em Dead" e-books (includes 600 pages of job search advice)
4+ hours of streamed media with Martin Yate
Documented Reference Checks (3)
A comprehensive Background Check
A Personalized Reference List
Salary Consultation
Professionally written LinkedIn Profile
A 30-day interview guarantee by Knock 'em Dead, after the resume package has been completed
This package is priced from $1,385* – nearly a 50% savings off the typical retail price. (See blog for details:)
Consider that this package might be the most important gift that you could possibly give yourself, or a loved one, as we approach the "gift giving "season (and 2017). If one of your New Year's resolutions is to get a new (or better) job, it's hard to imagine a better investment you could make. And – if the job seeker is a family member or loved one, your thoughtful gift towards new employment or a promotion it will be a commitment they will never forget and cherish forever.
To buy this gift package or for additional details, please call Allison & Taylor Reference Checking at 800.890.5645 (toll-free USA/Canada) or +1-248-672-4200.
*Professional and Executive Package Gifts Add $200, Recent Graduates and Entry Level subtract $200